L.A.N. Cascode Tube Microphone Pre-Amp

Click to Enlarge Photos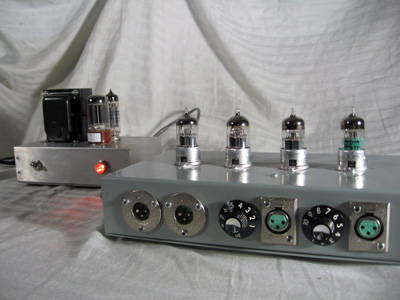 What it is: This is a truly hi-fidelity microphone pre-amp and utilizes a truly unique cascode circuit and has the lowest noise possible due to its separation of the power supply from the rest of the circuit on a different chassis (yet another hi-fi trick). The Cascode Microphone Pre-Amplifier also has both input and output gain allowing the same signal with the same microphone to be manipulated in several different manners. This pre also has a significant amount of gain even driving notoriously difficult to drive vintage ribbon mics.

Applications: As with every L.A.N. series product, the cascode pre-amp has been run through its paces in real world situations with a variety of musical genres. We can safely say that you can truly use this pre-amp with anything. While it sounds great with guitars, bass, drums (especially overheads), organ, piano, horns, synth, and strings, the true acid test for any pre-amp is with vocals. It is rather incredible on both male and female voices having a thickness and warmth while retaining presence and top end. Additionally, this pre-amp has a ridiculous amount of clean gain and was easily to drive a variety of ribbon mics (Shure 330, 315, Beyerdynamic M-160, M-260) on quiet sources with plenty of drive left over. This pre-amp is truly incredible and an investment that will pay-off immediately.

Tube compliment: 4 x 6922/6DJ8, 1 x EL84/6BQ5 (regulator tube), 1 x 5AR4 (rectifier)

Controls: Left and right channel gain input and gain output.

Options: Phantom power available at an additional charge. Also available with a universal voltage transformer.

Price: $2395