L.A.N. 8 Channel Line Level Tube Mixer

Click to Enlarge Photos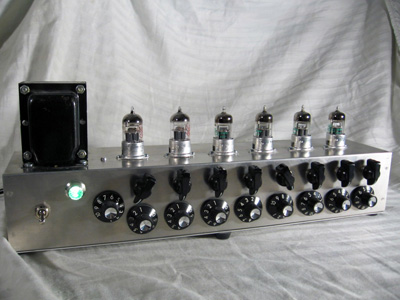 What it is: This is a point to point tube line level mixer that can mix in stereo or mono, we think of it as an expansion of Ampex's tube mixers, only with audiophile circuit tricks and components. Each channel has independent volume control and a 3 position switch allowing for send to L/L&R/R (pan pots are available at an additional charge if desired) along with a master gain control. Unlike many mixers on the market, this is an active mixer and actually provides a fair amount of clean gain if needed.

Applications: As with all L.A.N. Series products, we have used the L.A.N. tube mixer in a variety of applications. First, we have used it for the final mix down from both digital and analog. The difference we have repeatedly noticed is that while listening through the line mixers of a board there are multiple processing considerations that we think we need (EQ, limiting, etc.) but when wiring it through the L.A.N. tube mixer, the majority of these concerns literally disappear. The difference between this and a board is absolutely staggering (Think about all of the tone-robbing circuitry in any mixing board). At that final and most important stage of the mix down, an elite quality mixer truly makes the difference.
This processing-reduction also occurs when combining multiple signals onto one track, such as drums or multiple guitar mics. We've also used it to split a single microphone signal (such as on vocals or acoustic guitar) into two different tube-driven line signals. The final place we've really used it (and we use it a lot!) is for making up for gain on a quiet track in an unobtrusive manner. Unlike many mixers on the market, this mixer has a ton of clean head room for boosting quiet signals without the traditional unwanted artifacts. This mixer is a truly fantastic and unique piece.

Tube compliment: 6 x 6DJ8, 1 x GZ34 rectifier

Controls: Independent volume controls for all 8 channels and one linked master volume control.

Options: True balanced ins/outs available (but rather expensive due to the cost of a quality transformer). Also available with a universal voltage transformer.

Price: $1995