Brutis 15 Tube Guitar Amplifier

Click to Enlarge Photos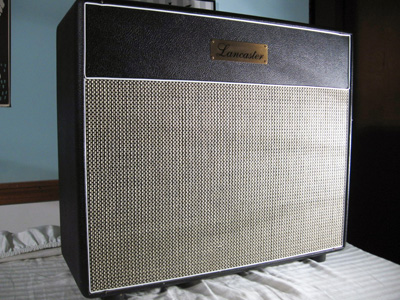 The sounds it makes: The Brutis recreates vintage Vox, Fender, and Marshall tones of the late 50s and 60s. Due to the amplifier's slope control, it can sound tight like a vintage AC30. When rotated in the other direction, it creates the smoothness and grind of a '59 Bassman. When cranked, the amplifier summons a vintage Plexi.
Sound Clips of Brutis 15 (.WAV file for higher quality)
Sound Clips of Brutis 15 (.MP3 file for smaller file)
(Sound clip notes and details)

Applications: At 15 watts of Class A power, the Brutis is perfect for both studio and stage. It produces reasonable SPLs that will not distort a microphone and has ultra-low noise. With its versatility, you get multiple sounds in one amplifier making it a wonderful tool for the studio or for showing off your tonal versatility on stage. Just because it's great for recording does not mean that it's not loud enough for live performances. You can take it anywhere you want the sound of a Marshall stack/Bassman's output tube distortion without drowning out the rest of a band. The Brutis is exceptional for rock, blues, and rockabilly.

Tube compliment: Pre-amp: 1 x 12AX7/ECC83, 1 x ECC803. Power amp: 2 x EL84. Rectifier: 5AR4

Wattage: 15 watts (Class A)

Controls: Volume, Treble, Midrange, Bass, Slope. The Slope control is the magic versatile knob allowing for the litany of tones.

Features: Class A, cathode-biased, point to point wired, military-grade parts. Two speaker jack outs for running two cabinets simultaneously. Adjustable impedances of 4, 8, and 16 ohms. Comes stock with universal voltage transformer for running either 110 or 220 volts.
Options: Available in either head cabinet or in 1x12 combo w/ Jensen Neo Tornado.

Price: Head – $997 USD. Combo – $1395 USD