Essix 60 Tube Bass Amplifier

Click to Enlarge Photos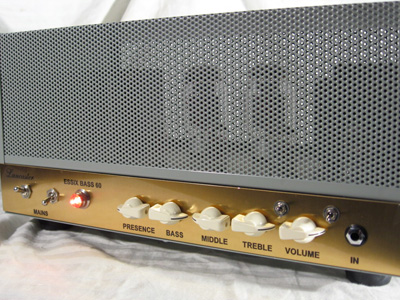 The sounds it makes: The Essix recreates tones from vintage Ampeg SVT and V4B amps while also pulling from the Traynor YBA-1A. The amp is versatile enough to even summon a vintage checkerboard Ampeg Portaflex and rivals it in recording situations. The sounds are big, round, warm, yet articulate.
Sound Clips of Essix 60 (.WAV file for higher quality)
Sound Clips of Essix 60 (.MP3 file for smaller file)
(Sound clip notes and details)

Applications: Great for studio and live performance use. Excellent for any genre and both electric and upright basses. Its low noise and versatile tonalities make it a must for any studio session. Its power and versatility make it a great fit in any band.

Tube compliment: Pre-amp: 2x 12AX7/ECC83, 1x 12AT7, 1x ECC803. Power amp: 2x KT88. Rectifier: Extra fast silicon diodes (this is bass after all).

Wattage: 60 watts Class A/B Ultralinear

Controls: Volume, Treble, Middle, Bass, Presence, Active/Passive pickup switch, Presence boost switch.

Features: Line level out with level control. Two speaker jack outs for running two cabinets simultaneously. Adjustable impedances of 4 and 8 ohms.

Options: World voltage transformer also available (add $100 USD). True Jensen transformer XLR direct out to act as the ultimate direct box (add $200 USD).

Price: Head in cage $1749 USD.