Leedis 30 Tube Guitar Amplifier

Click to Enlarge Photos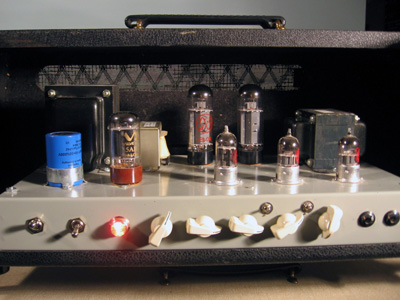 The sounds it makes: The Leedis was created as the ultimate clean amplifier with great headroom and amazing bloom on the notes. The amp is most similar to a JMI Vox AC50 but also incorporates the slope control allowing it to venture into vintage Bassman/Magnatone territory. What this creates is a wide range of creamy and jangly tones.
Sound Clips of Leedis 30 (.WAV file for higher quality)
Sound Clips of Leedis 30 (.MP3 file for smaller file)
(Sound clip notes and details)

Applications: While the Leedis can be used in the studio, its home is in live performances. It sounds great with electric 6 string guitar in genres such as jazz, country, less distorted blues, folk rock (ala The Byrds), and soft rock. The Leedis was also designed to be the finest electric 12 string amplifier available. It allows for proper head room and articulation/separation of notes while maintaining essential sweetness and jangle. It also sounds great with pedal steel.

Tube compliment: Pre-amp: 2x 12AX7/ECC83, 1x 12AT7. Power amp: The Leedis is a univalve and ships with EL34s but can also run 6L6, KT66, or KT77 output tubes. Rectifier: 5AR4 (5U4 available upon request).

Wattage: 30 watts (Class A) with EL34s. Wattage varies with output tube selection going as high as 40 watts Class A with KT66 output tubes.

Controls: Bright channel volume, normal channel volume, combiner switch to strap the two inputs together, treble, bass, slope. The slope knob allows for the tonal shifts from Vox to Fender to Valco to Magnatone to checkerboard Ampeg.

Features: 2 inputs w/ independent volume controls. One channel is a top boost channel and one is a normal channel. Two speaker jack outs for running two cabinets simultaneously. Adjustable impedances of 8 and 16 ohms.

Options: World voltage transformer also available (add $100 USD).

Price: Head in cabinet $1695 USD.