Thee Cavetone Tube Guitar Amplifier

Click to Enlarge Photos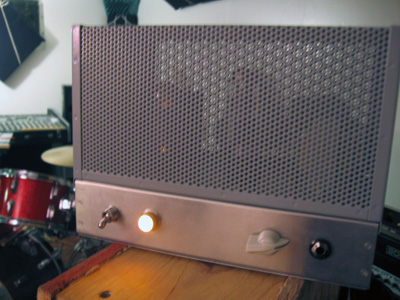 The sounds it makes: Cavetone Studios approached us about making a magic amp that had only one knob yet would rip the head off a Champ. Thee Cavetone is everything great about a 1950s guitar amp taken to a whole new level. You haven't heard snarling gain until you've heard a Cavetone. It makes the Les Paul amp and the Gibson GA-40 look tame by comparison.
Sound Clips of Thee Cavetone (.WAV file for higher quality)
Sound Clips of Thee Cavetone (.MP3 file for smaller file)
(Sound clip notes and details)

Applications: While this amp is loud enough for smaller gigs, it was made for the studio to get those big gainy sounds without distorting the mic or rattling the foundation. While not as noiseless as the Brutis or Leedis, it is significantly quieter than the amps from the 50s and other single-ended amps. Unlike other low-wattage amps, Thee Cavetone needs no mods to sound incredible.

Tube compliment: Pre-amp: 1x 6SL7 (or a 6SN7 for a lower gain/crunchier tone), Power amp: Thee Cavetone is a univalve amp that ships with 1x 6L6 but can run EL34, KT66, 6V6 and some other miscellaneous 40s tubes that we'll tell you about if you buy one that all have their own unique sonic characteristics. Here's where the impedence selector gets really interesting. Since it's a low wattage, single output tube, you can intentionally mismatch impedence to get different tones such as running the amp at 16 ohms into an 8 ohm load thus making higher gain. Rectifier: Ships with 5AR4 but can also run a 5Y3.

Wattage: Depending on output tube, 4-8 watts Class A Single ended.

Controls: Volume. Impedence selector on back.

Features: Adjustable impedance for 4, 8, and 16 ohms.

Options: World voltage transformer also available.

Price: Head in cage $649